Professional Christmas Light Installation Mckinney
Enhance the joy of the festive season with expert Christmas light installation by Green-Go Landscaping. Our team, skilled in installing Christmas lights, has been illuminating homes and businesses in the McKinney area with holiday lighting for years. Contact us at (972) 377-4727 for more information and to make your holiday season shine.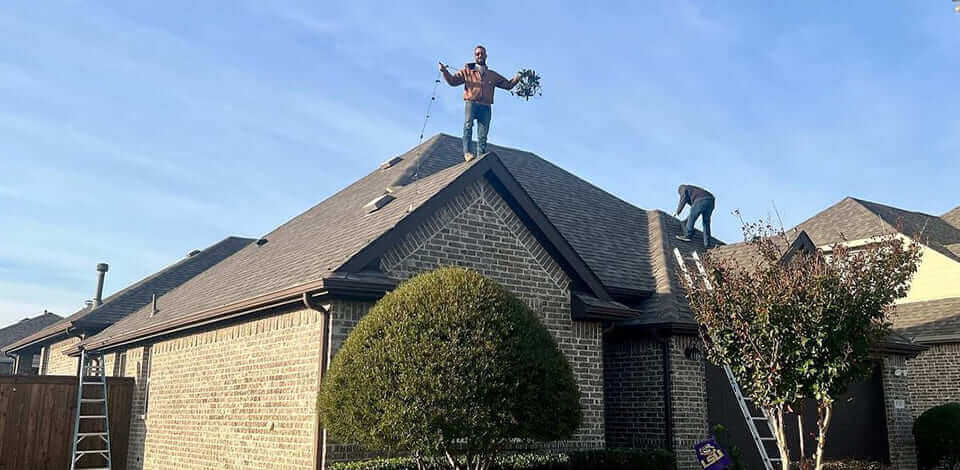 Christmas is a time for families worldwide to gather and enjoy the holiday spirit, often marked by the enchanting glow of lights on their Christmas trees. But why stop at the tree? Extend that festive brilliance to your entire home. Christmas lights, whether the classic incandescent bulbs or the increasingly popular and energy-efficient LED variety, offer a perfect way to elevate your holiday decor. They're not just for the tree – they can transform your entire home into a winter wonderland. Let your home sparkle with festive cheer this year by adorning it with beautiful Christmas lights.
At Green-Go Landscaping, we specialize in creating captivating holiday displays. Our Christmas light installers are experienced in bringing the magic of the season to your doorstep. Whether for residential or commercial properties, our light installation services in McKinney, TX, are dedicated to making your Christmas merrier and brighter.
Meet Our Christmas Light Installation Process
Our process, designed to install Christmas lights with precision and care, ensures your McKinney, TX, holiday season is bright and stress-free. Here's how we transform your home into a holiday masterpiece: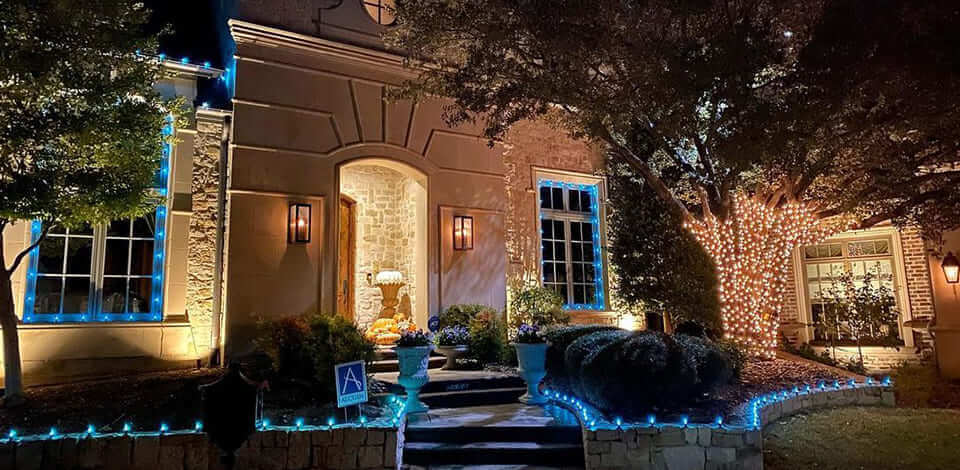 Initial Consultation and Site Assessment

: Our Christmas light installers visit your property to understand your vision and assess the layout. This step is crucial in tailoring a design that complements your home's architecture and landscape.

Customized Design Plan

: We develop a unique lighting installation that aligns with your preferences. This plan includes the selection of Christmas lights, extension cords, and other accessories to create a harmonious and enchanting display.

Professional Installation

: Our skilled team carefully executes the light installation process. We ensure every light and extension cord is securely and aesthetically placed, prioritizing safety and visual appeal. Our approach includes meticulous attention to hanging lights to enhance your home's features. This type of Christmas light can be the perfect choice for ladders.

Quality and Safety Check

: We will conduct a thorough walk-through with you once the light installation is complete. This step guarantees that every Christmas light functions correctly and the setup meets our high safety and quality standards.

Integration with Existing Decor

: If you have other outdoor decorations, our designers skillfully integrate them with the new lighting arrangement. This holistic approach ensures a cohesive and impressive display.

Ongoing Maintenance and Support

: Throughout the holiday season, we provide maintenance service to address any issues, ensuring your lights remain as captivating as on the first day.

Post-Holiday House Removal

: As the season concludes, our team returns to remove the lights and decorations carefully. This hassle-free house removal process leaves your property pristine, marking a perfect end to your festive celebrations.
With Green-Go Landscaping, installing Christmas lights becomes an effortless and enjoyable experience, turning your home into a dazzling holiday attraction.
Holiday Lighting Alternatives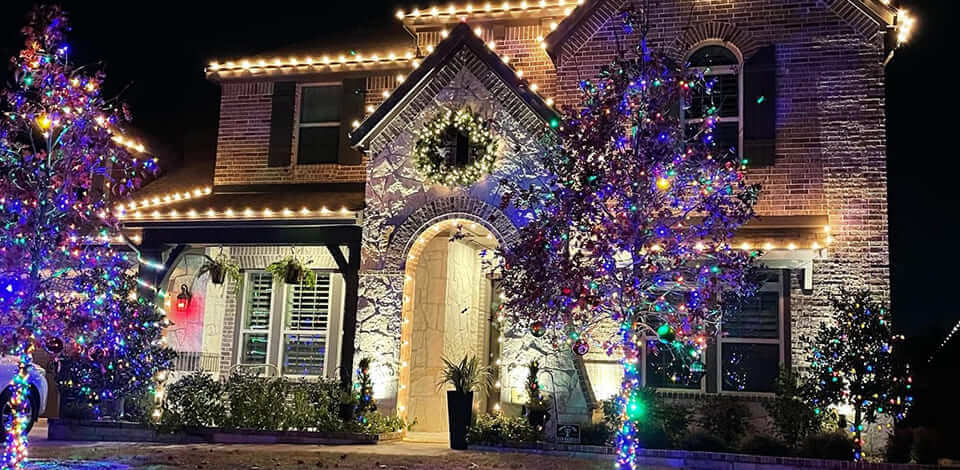 Achieving a mesmerizing holiday lighting display is a cherished goal for many during the festive season. While Christmas light installation can transform your McKinney, TX, home into a winter wonderland, it's essential to recognize that DIY approaches can be tricky and sometimes lead to costly errors. That's where professional assistance becomes invaluable.
Our team possesses the expertise to create a unique and elegant display that captivates throughout the holidays. Whether you envision an extravagant array of lights installed across your property or prefer a more understated elegance with select strands, we cater to your desires. Our goal is to ensure your holiday lighting meets and exceeds your expectations, adding a special sparkle to your festive celebrations.
When considering light options for your Christmas decorations, there are several enchanting choices to revive the festive spirit of your home:
LED Mini Lights

: Energy-efficient and long-lasting, LED mini lights are perfect for creating a warm, inviting glow. They come in various colors and can be installed indoors and outdoors.

Icicle Lights

: This option mimics the look of icicles, adding a whimsical, wintry touch to your home's exterior. They work beautifully along rooflines or overhangs.

Net Lights

: Great for covering bushes or large areas, net lights ensure an even distribution of lights, making installation quick and efficient.

Globe Lights

: These larger, round bulbs offer a retro charm and are trendy for a bold and festive display.

Animated and Color-Changing Lights

: Consider lights that change color or have animation effects for a dynamic display. These lights create a lively and interactive holiday atmosphere.

Projector Lights

: A hassle-free option, projector lights can cover your home in a blanket of moving lights or festive images, offering a modern take on holiday decorating.
Professionals can install each option, ensuring a safe and stunning display that brings your holiday vision to life. Whether you're aiming for a classic, elegant look or a more vibrant and playful theme, there's a lighting option to suit every style and preference.
First-Rate Christmas Light Installers in Mckinney, Texas
Green-Go Landscaping is the quintessential provider for all your Christmas light installation needs in McKinney, TX. Our mission goes beyond just installing lights; we aim to infuse your house or business with the joy and spirit of the best time of the year.
While some light installation services may do the bare minimum, our approach differs from that of other companies. We believe in creating a captivating story through our designs, bringing your building a unique and festive flair. Our professional Christmas light installations are meticulously planned to reflect your vision and enhance the aesthetic appeal of your property.
Here's what sets us apart:
Decades of Expertise

: With over a decade of experience in festive lighting, our guys have mastered the art of creating magical holiday environments. Our team's proficiency ensures every installation showcases beauty and creativity.

Licensed and Insured Excellence

: As a fully licensed and insured professional company, we guarantee the safety and integrity of every project. Our commitment to quality of service and responsibility protects your trust in us.

Dedication to Client Satisfaction

: At Green-Go Landscaping, your happiness is our priority. We're not satisfied until you are, ensuring that every installation meets your highest expectations.
Our outdoor Christmas light services are designed to make your house or business a community highlight. If you're looking to embody the whole holiday spirit and become a festive landmark in McKinney, TX, Green-Go Landscaping is your go-to partner. Let us illuminate your holiday season with unparalleled elegance. Check our website for a free quote and schedule an appointment today to start your Christmas light installation.